Connect.
Connect with Bazzaz, our race teams, industry, and other enthusiasts.
Login to post your own Bazzaz-related images, feedback, and reviews.

Need support? Use tabs at right. Or call us at 909.597.8300 (M-F 7-4 PT)
Mazda Raceway Laguna Seca, Monterey, CA
For Immediate Release:
Mazda Raceway Laguna Seca, Monterey, CA
Coming into round four of the AMA Pro Road Racing series, the team was optimistic about their chances to make a spectacular showing in front of the world audience. This round was to be shared with the World Superbike riders and everyone was anxious to see how the team would perform at the technical Mazda Raceway Laguna Seca in front of the international audience. After a decent weekend at Barber, the team was looking to keep on a positive trajectory that would boost them through the remaining three rounds of the season. Unfortunately, things don't always go according to plan and sometimes, the early morning fog, doesn't always clear up.
GoPro Daytona SportBike

Corkfused...
The World Superbike weekend is an odd weekend for the AMA Teams. Not only are the teams relegated to limited track time the crews also have to hustle in order to put up the pits and tear them down each session. It's a lot of energy towards what amounts to very little track time. However, it is Laguna and it's the only west coast round, so everyone was excited and wanting to put on a great display for the World Superbike audience.
On Friday's practice session, Jake Gagne was at the top of the timing charts for most of the session. He was feeling good and the bike was performing well. Some new components (put on after Barber) had yet to be fully tested and the practice session proved a perfect testing environment. Tomas and his crew were feeling good about their chances as Tomas loves Laguna and has a history of going fast around the circuit and this was his first time around with a fully prepped DSB bike under him.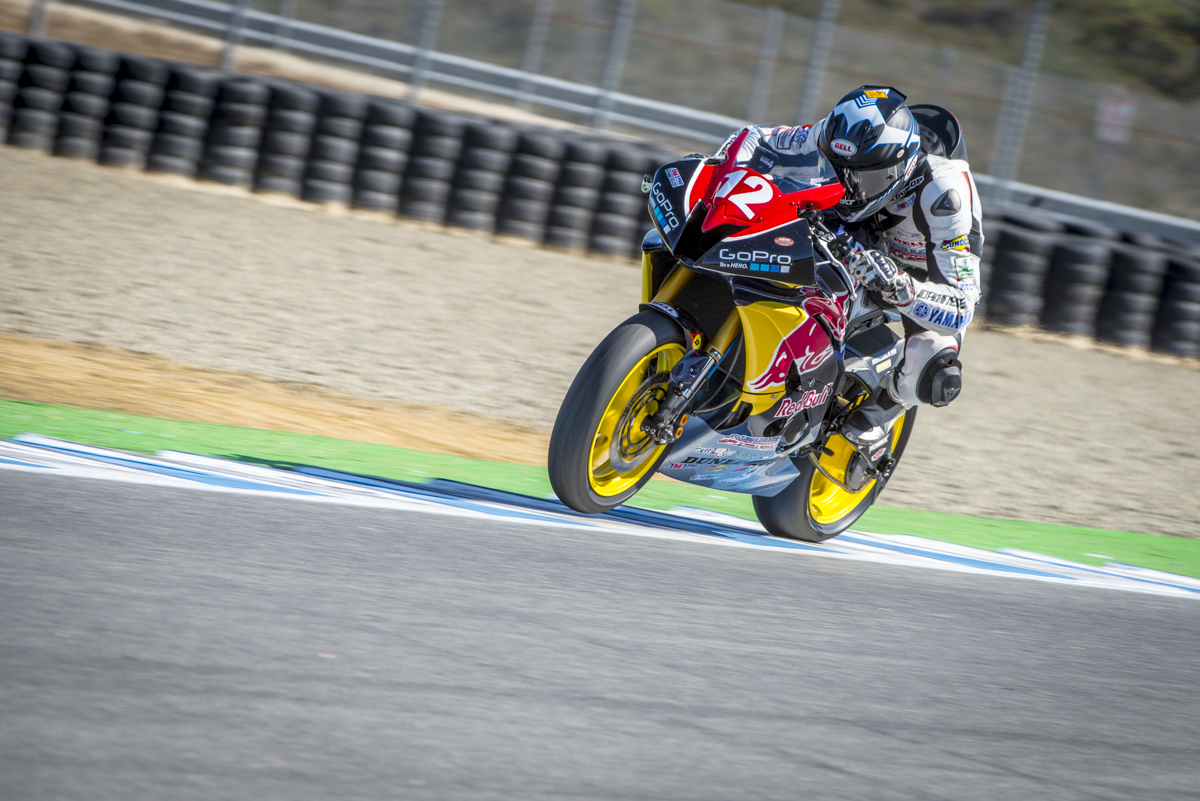 Going into the first qualifying session however, Tomas' crew had made some changes to the machine and for the first time this season Tomas was smiling saying that was feeling really good on the machine. His times had him well within reach of the top five as the top ten where only separated by a little over a second. Meanwhile, Jake's crew made only minor adjustments to his machine and once again, Jake was running at or near the top of the timing sheets. Still though, there was a lingering feeling that something just wasn't going right. As is normal, Jake was consistently improving his times, but other riders were doing the same at a quicker pace and when the session was over, Jake would be in a provisional fifth place while Tomas was back in ninth.
For the one and only on track session of the day on Saturday, the crews of both Jake and Tomas had made some changes that were confident would place their riders firmly at top the timing sheets. For Jake, the changes seemed to have worked. He was immediately quick and by the time the short session was over, Jake had moved his RoadRace Factory / Red Bull Yamaha R6 to P2 for the start of the race. On the other side of the pit, Tomas and his crew were scratching their heads as some form of mechanical gremlins had appeared. The guys spent most of the session in and out of the pits; this inconsistent pace is a determent to running consistently fast lap times. When the session was over, Tomas was back in P10. The team quickly rolled his machine into to the transporter and immediately began the hunt for the gremlins.
With limited time to ensure the changes were good, Sunday morning brought out a quick 20-minute warm-up session. Jake and his crew went about the business of eking out the last few ounces of speed from his bike, while Tomas and his crew set about to see if the changes were effective. Unfortunately, the issues that plagued him the day before, were still present and there was only a limited amount of time to resolve them before the race.
As the riders lined up for their one race of the weekend, it was a guessing game to see if all issues had been resolved. Tomas admitted later, that on the warm-up lap he could tell the issues were still there and he didn't feel he would have the pace. Jake was focused at grabbing the hole shot and staying up front. Flags were dropped and the riders took off over the rise for race action. Gagne was able to get a good start and was riding with the leaders for much of the opening laps. Tomas was circulating in the second pack of about 8 riders.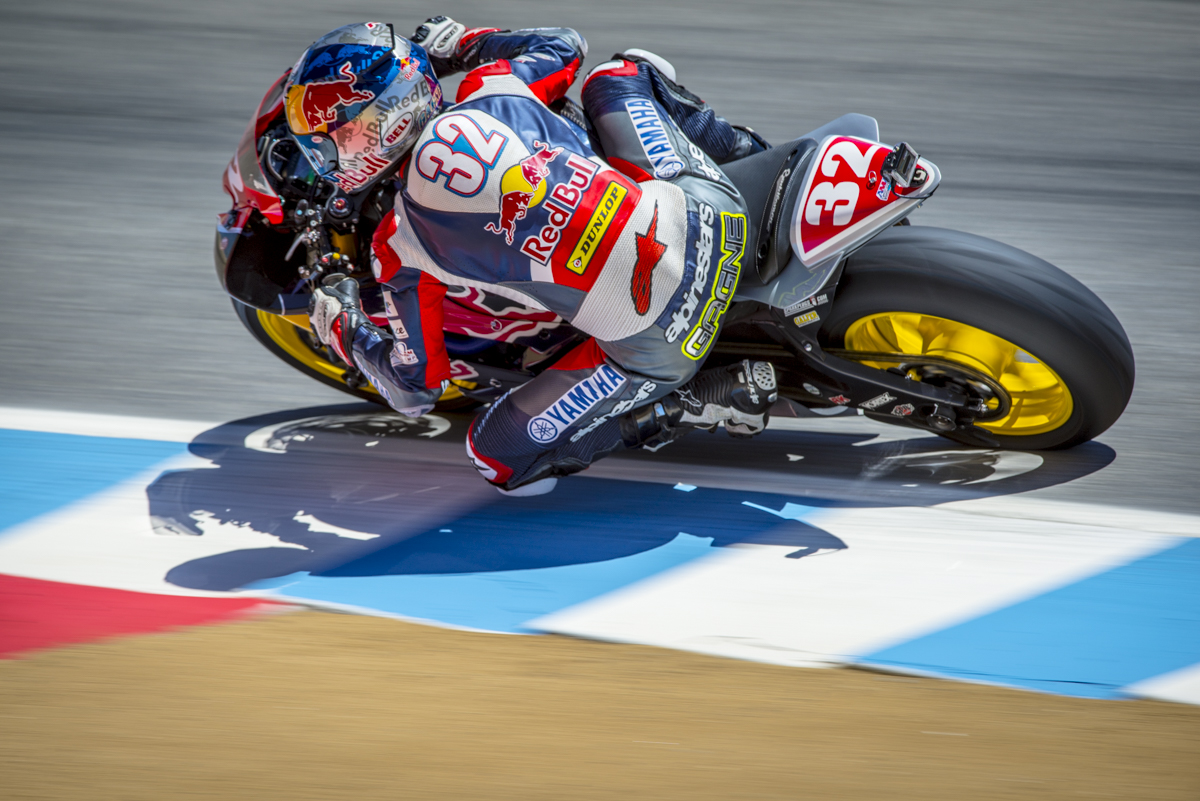 By mid-race, Jake was embroiled in a battle with Triumph rider Danny Eslick. The pair would battle it out all race long for the final podium position as fellow Yamaha riders Jake Lewis and JD Beach were pulling a gap on battling Eslick and Gagne. Meanwhile, Tomas was leading the chasing pack riders a few seconds off the pace. Tomas lead the pack and seemed to be holding his own, unable to pull a gap but no one was able to mount a challenge. Clearly he was riding around whatever issues he was having.
Coming down to the wire, the battle with Jake and Danny was heating up. With several passes by each rider lap after lap, it was clear it would come down to the final few corners. From the pits, you could see they were side by side coming down through the corkscrew and through Rainey curve. Out of Turn 11, Eslick got into the corner first and Jake had to adjust his line slightly and that allowed the Triumph rider a better drive off the corner and Danny would edge out Jake by only a few tenths of a second at the line. The drama would completely unfold however for Tomas. As the pack he was leading for most of the race headed into the final corner, a slower rider caused the group to check up and a chain reaction of bumping and braking would ensue. Tomas would be the unfortunate victim of the last corner as he as hit and taken down into the gravel. He would remount and finish the race in 22nd place.
Jake Gagne - 1st in Standings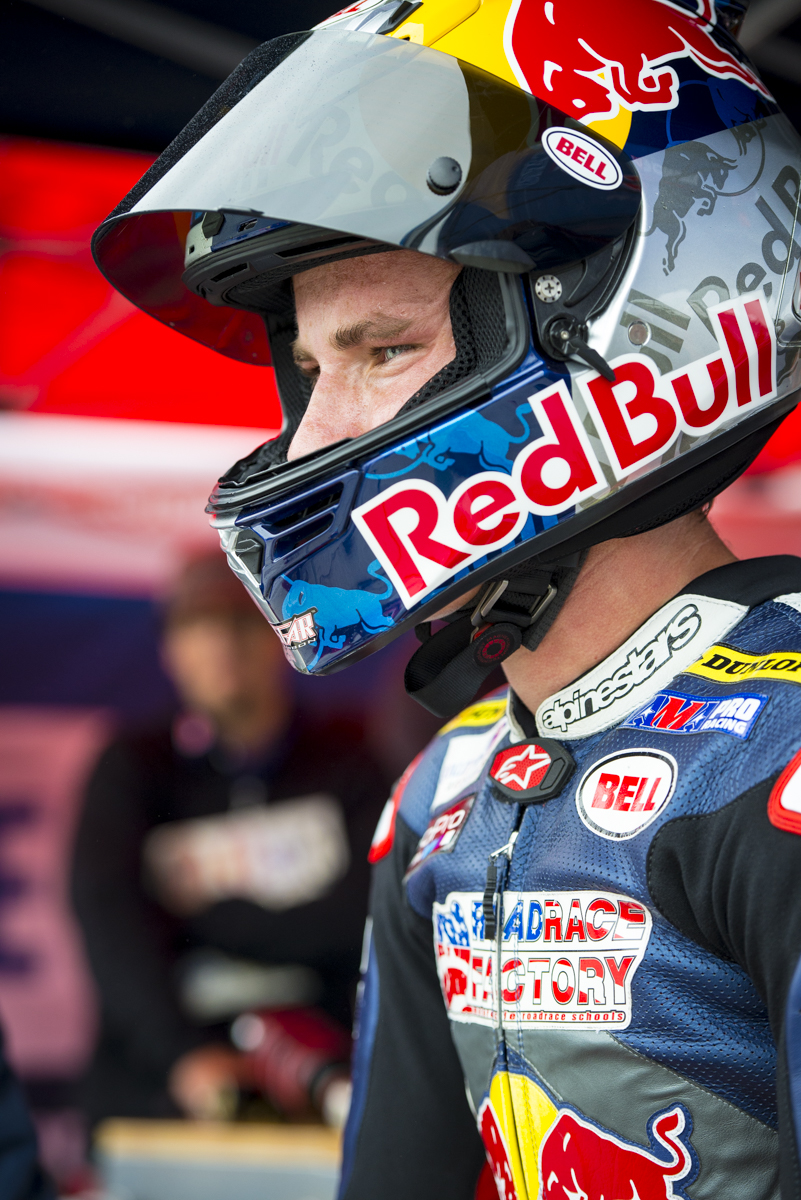 "Definitely wasn't what had hoped for. Got off to a decent start but I was struggling a little bit with the bike. I was up there in third and doing ok. After a several laps I came up to some lappers in Rainey (Curve) and almost ran off the track. After that the top two guys had a good gap and then I got into a battle with Danny (Eslick) and we went back and fourth the last couple of laps. Ended up fourth which isn't what we wanted, but we have Mid-Ohio next weekend and we'll redeem ourselves."
Tomas Puerta - 12th in Standings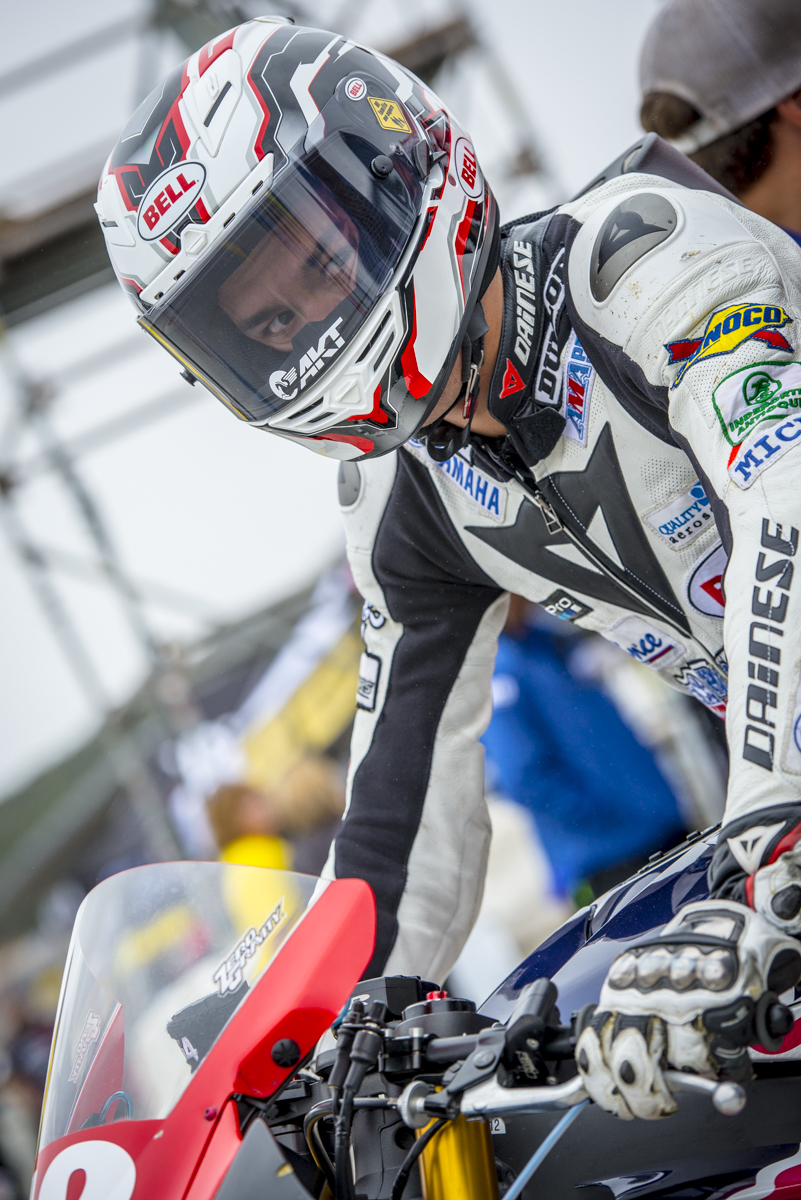 "What can I say? This is a weekend to forget. I was feeling competitive on Friday and was hoping to do good here. But something happened with the bike and everyone is trying to figure it out. For me, I feel like I didn't even race here, this weekend didn't happen and I'm just looking forward to Mid-Ohio. I know my team will fix the problem and we'll be ready for Mid-Ohio for sure."
The Final Word - Danny Walker
"Hey, sometimes this happens in racing. You can't win them all and once in a while, things just go sideways on you. This is Laguna and it's a hard weekend for everyone because you can't really get into any kind of rhythm and I know the guys busted their butts. Sometimes in racing things just happen, all you can do is find out why they did happen and ensure that they dont happen again. I'm confident that we'll be back running strong for Mid-Ohio and if I know the guys, they've already found the issues with Tomy's bike and they'll get it fixed. Onward to Mid-Ohio!"